Family Guy Cutaways & Flashbacks

 


                                

                                     
                                    


2/14/09 - Online!
2/20/09 - We are working on a site redesign and will post some previews soon. We hope to be your resource for Family Guy Cutaway and Flashback news!
3/06/09 - Added a video test page. We are testing some different video formats and quality settings. Family Guy and the Griffin family serve up plenty of cutaways for us to choose from and we are currently gathering our content to complete our page redesign.
3/22/09 - Added more test videos of Family Guy cutaways. We also posted some of our favorite screenshot images on the test page (remember - all copyrighted by Fox). Look for the "Watch the clip!" links to see a video of the cutaway.
3/29/09 - Major update. We added a ton of new screenshot pictures from some recent Family Guy episodes. There are some classics in there. Check them out on the Video Test Page.
4/03/09 - Added a new video clip of Peter doing his imitation of an anus. Check it out on the Video Test page.
5/12/09 - Major update!! We added 50 new Family Guy images. These are sceenshots from the show. We are still gathering our data for the site redesign which should be under construction soon. Please check out the updates on the Video Test page and check back soon for updates and news on the site launch!
Please check back often. Feel free to shoot us an email and share your suggestions.
             

                                         
                             

Stewie and Brian at CIA headquarters in a Family Guy - American Dad crossover. Season 06, Episode 05.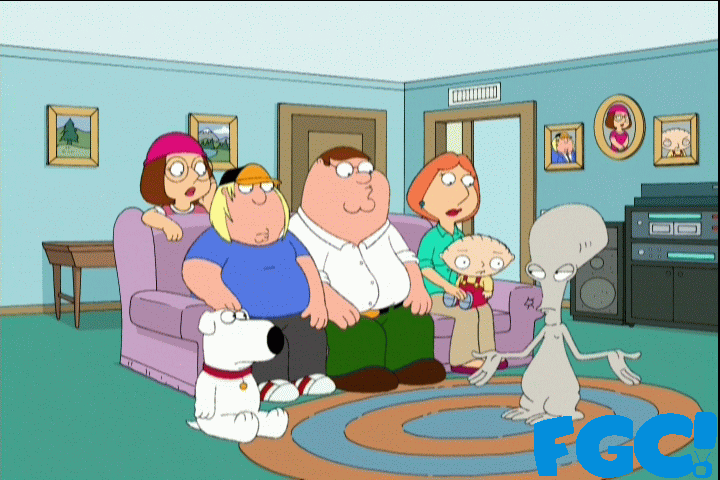 Here is another Family Guy - American Dad crossover with Roger appearing at the closing of FG episode. Season 05, Episode 18.
In this Family Guy scene, Brian's long lost son Dillon shows up. He has a note from his mother informing Brian that he has to care for Dillon now. She also asks for a letter of recommendation for the University of Phoenix, which Brian is not comfortable with. Season 06, Episode 11.

 


Legal Notice & Disclaimer: "The Family Guy" TM and © FOX and it's related companies. This is a fan web site, and any media (pictures, videos, sound clips, etc) are owned and copyrighted by FOX.
If you find broken links or problems on this website please email the webmaster.
Website created by J & G and FamilyGuyCutaways.com 2009